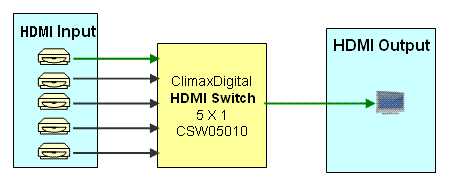 ITEM NO:111111
Description
This 1080P HDMI 1.3B 5 Port Intelligent HDMI Amplifier Switcher with Remote Control
allows you to connect up to 5 HDMI devices, such as PS3, Blue Ray, DVD Player, Xbox, HD TV, Projector, Sky HD to a single HDMI enabled TV or projector.
With remote control operation, auto detect and switch function and support for high definition video and multi-channel digital audio, Intelligent HDMI Amplifier Switcher is the perfect addition to your Home Cinema installation.
HDMI Amplifier Switcher not only has the key-press-switching function, but also has the IR remote control and intelligent function.As soon as the power supply of the source equipment is switched on, this switcher will respond automatically. In addition, it is equipped with IR extender receiver : safe and convenient.
Key Features
1) HDMI 1.3b Compliant; Fully supports 1080P 1920x1200 HDTV; High Performance up to 2.5Gbps; Supports 12-bit Deep Colour, Supports 25Meters HDMI Cable on both ends of the Switcher
2) Include remote control and auto switching technology. It can auto detect and switch itself over to the first available input source, or you can select the input source by using the remote control or pressing the button on the unit directly.
3) DTV/HDTV Supported Formats: 480i, 480p, 576i, 576p, 720p. 1080i, 1080p ;VGA Supported Formats: 640x480, 800x600, 1024x768, 1920x1200; Output Video: HDMI 1.3b + HDCP 1.0/1.1
4)5 HDMI source inputs; 24k Gold Plated Connector; IR Remote Control, IR extender receiver and UK 3 pin power adapter are provided. No power needed - providing your HDMI sources are HDCP compliant, otherwise, for long runs of HDMI cable powering the unit is recommended
5) FCC CE Certified with HDMI ATC testing , Plug and play, installs in seconds. Switches easily between HDMI sources
What's in the box?
1) 1 X 1080P HDMI 1.3B 5 Port Intelligent HDMI Amplifier Switcher
2) 1 X Remote control
3) 1 X IR extender receiver
4) 1 X User's Manual
5) 1 X UK 3 pin AC Power Adapter